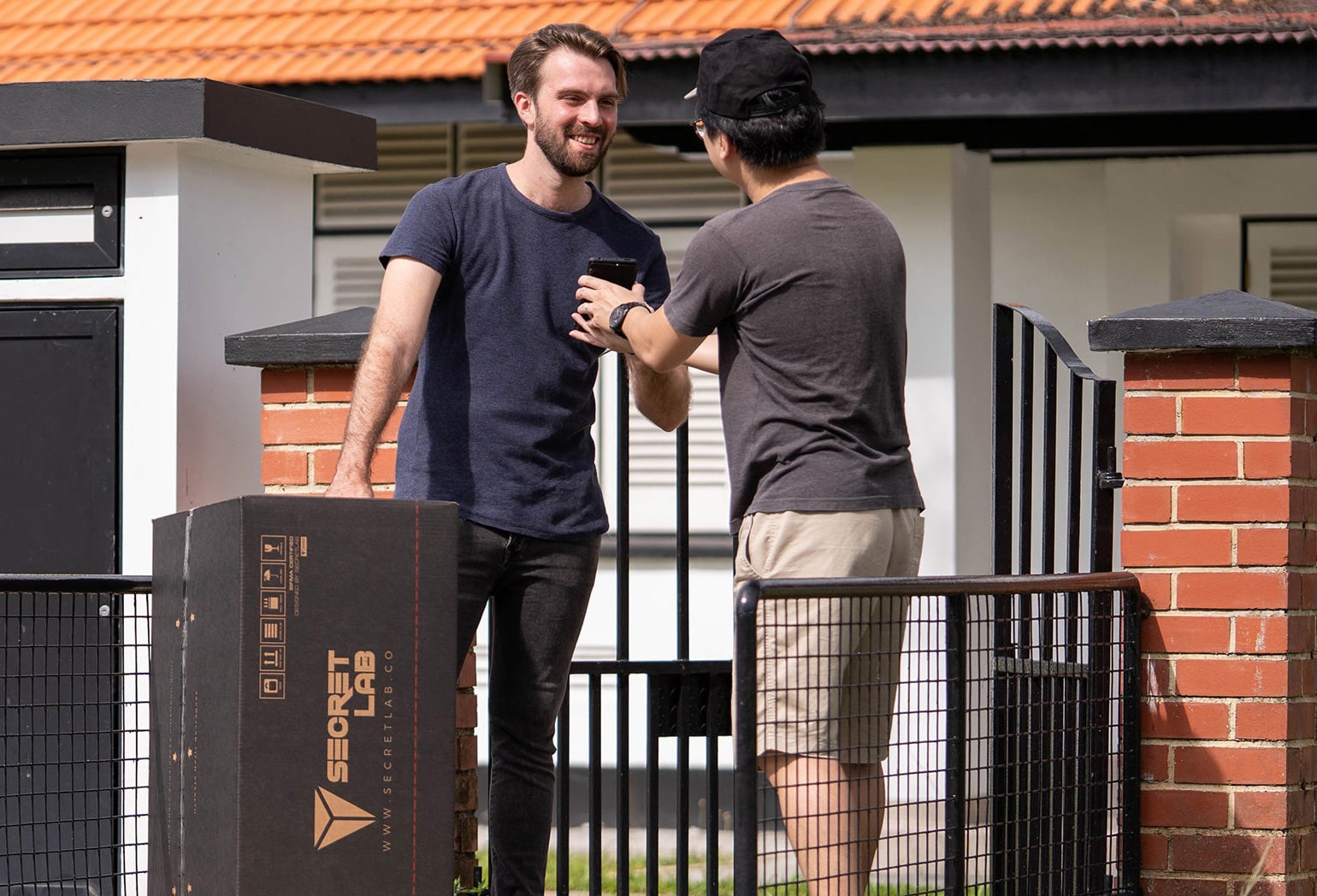 Experience maximum
comfort, sooner.
Get your product by today:
Order within
Get your product delivered on your
preferred time and date.
Fast delivery
Get your product the day you buy it with our direct, same-day delivery option.
Delivered at your convenience
Pick the delivery date and time to suit your schedule.
Assembly service available
Choose to have our technician assemble your product for you.
Delivers 7 days a week
We deliver every day of the week, excluding Public Holidays.
How much will shipping cost?
Delivery to your doorstep by our local courier costs $20. If you want your order to be assembled on-site, you can purchase our assembly service for another S$29 per chair/S$59 per desk*. Our technician will then deliver and assemble your Secretlab chair or desk for you at your location.
*S$59 per desk and desk extension.
How will my order be delivered?
We deliver your order straight to your doorstep by local courier. You'll get to pick your preferred delivery date and time slot when checking out, and you'll need to sign for the delivery.
We aim to deliver all orders within the selected date and time slot. Should there be any changes, we'll do our best to let you know at least 1 working day in advance.
Additional delivery charges may also apply for certain areas, such as restricted zones, islands, Central Business District towers, and no-lift areas. Please check with us if you're unsure about the additional costs.
Accessories will be delivered by registered mail and should reach you in about 2 to 3 working days.
Can I choose my delivery slot?
Yes. We deliver 7 days a week, with the exception of Public Holidays. Simply choose the delivery date and time that suits your schedule at checkout. Three time slots are available daily for delivery:
11am - 3pm
3pm - 6pm
7pm - 10pm
Limited same-day delivery slots are available as well for orders placed before 5pm. If you opt for same-day delivery, we'll deliver your order on the day of purchase between 7pm and 10pm. Do note that there will be an additional fee of S$29 per chair or desk for same-day deliveries.
Once your order ships, you'll receive a tracking number that you can use to follow your package as it makes its way to you. We'll also send you an SMS reminder regarding the delivery of your order. If you require further assistance, you can call us at +65 6341 5032.
Flat packed and self-assembled.
Save more today.
At Secretlab, we believe in delivering the best value to our customers. Enjoy more savings with our flat packed, self assembled products, delivered directly to you.
Shop Now
Over
2,000,000
Happy Users and Counting
Get your product delivered today.*
Order within
Get your product delivered soonest.*
Additional charges apply for same-day and Sunday deliveries.
Shop Now